When I think of crockpot cooking I think "easy." These 10 recipes are easier than easy! With 5 ingredients or less they take minimal time to prepare. Many of these recipes have super easy ingredients that you already have in your pantry.

1. Slow Cooker Buffalo Pork Lettuce Wraps

2. Slow Cooker Saucy Salsa Chicken

3. Slow Cooker 3-Ingredient Chicken and Gravy

4. 5-Ingredient Dijon Chicken

5. 5-Ingredient Slow Cooker Chicken Tacos

6. Spicy Beef Taco Filling

7. Slow Cooker Garlic Green Beans

8. Slow Cooker Warm Black Bean Dip

9. Slow Cooker Cheesy Ranch Orzo

10. Slow Cooker Bacon Kalua Chicken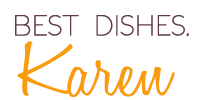 P.S. Make sure to join in all the foodie fun on Pinterest!
Visit Karen Petersen's profile on Pinterest.