What's better than fresh raspberries?  Fresh raspberries in a cake!  Specifically this warm and gooey slow cooker vanilla pudding cake that's topped with whipped cream.
I just got a case of fresh raspberries.  An entire case.  The first thing I did?  Promptly ate one carton by myself.  The second thing?  Started making this raspberry cake in the slow cooker.  It's not a regular cake like the kind you have on your birthday with candles.  It's more of a lava cake or a pudding cake…if you're familiar with that term.  It starts with a simple egg-free batter and then you top with boiling hot water.  A couple of hours later the batter cooks and floats to the top and under the cake there's a pudding-like sauce.  It's an amazing dessert and absolutely must be topped with whipped cream or vanilla ice cream.  I love the sweetness of the brown sugar paired with the tart raspberries.  I know you will too!
Slow Cooker Raspberry Vanilla Pudding Cake
Makes 8-10 servings
Cooking time:  2 hours
2 cups white sugar or brown sugar (I tried both and actually preferred the white sugar.  The picture is of the brown sugar, though)
2 cups all purpose flour
4 tsp baking powder
1 tsp salt
1 cup milk
4 Tbsp melted butter
1 tsp vanilla
2 (6 oz) container fresh raspberries
1 Tbsp instant vanilla pudding mix
1 3/4 cup boiling water
Vanilla ice cream or whipped cream
1.  In a bowl hand mix together the
brown sugar, flour, baking powder, salt, milk, melted butter and vanilla.
When well mixed, fold in the container of raspberries very carefully.
2.  Spray the slow cooker with
non-stick cooking spray.  Scrape the batter out of the bowl and spread in
evenly in the bottom of the slow cooker.
3.  Sprinkle the instant pudding mix
on top of the batter.  Do not stir in.
4.  Bring the water to a boil and carefully
pour over the top of the batter and pudding mix.
5.  Cover the slow cooker and cook on
HIGH for 2 hours.  At that point the cake should be cooked and have risen
to the top.  The pudding will be on the bottom of the cake.  Scoop
down deep to get a layer of cake and some of the pudding and spoon into serving
bowls.  Top with vanilla ice cream or whipped cream.  Top with additional fresh raspberries, if desired.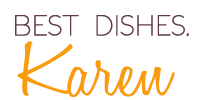 P.S.  Make sure to join in all the foodie fun on Pinterest!
Visit Karen Petersen's profile on Pinterest.