A while back I was contacted by Brian, the inventor of the CoolCooker (a new slow cooker that is pretty revolutionary). I was able to try a beta version of this product and I loved it! Let me tell you a little bit about it.
It is a slow cooker with a built in, miniature, space age refrigeration unit

The benefit of having a slow cooker with a cooling unit is that there is no need to have someone home to turn it on at the right time

The food can go in the night before, it refrigerates itself, set it and forget it

The timer starts cooking at the right time the next day

And voila! You come home to a perfectly cooked, slow cooker meal


The idea of a slow cooker that can do this has been in my brain for a long time. I've heard so many people ask me, "Isn't there a slow cooker with a delayed start feature?" No I tell them…that could cause food poisoning so slow cooker manufacturers don't want to risk that for their consumers. Meat sitting at room temperature for several hours is certainly not a good thing.
Well, what about a slow cooker that could keep the food at the right temperature until it was time to cook it??? AWESOME!
This could help so many busy working professionals that want to come home to a perfectly cooked meal! I am home most of the time, so usually I'm available to turn the slow cooker on and off at the right time but for people that leave the home for several hours a day this could be perfect. Think of those nurses that have 12 hour shifts. There is barely any recipes that will still be good after 12-14 hours of cooking. BUT, if you had the CoolCooker you could set it to start at noon and cook for 6 hours until you get home for dinner. Perfect.
There are NO other slow cookers like this on the market (believe me, I've looked)! There are slow cookers that have a timer but not one that has a delayed setting while cooling and then cooking the food.
There are a few cons of the CoolCooker that I noticed when I used it.
1. It is pricey. At $359.00 it is expensive. But for those of you who are serious about wanting a home-cooked meal this would be worth it. Just think of all the money you spend on take out and fast food! That could easily add up to $359! A reviewer on Amazon said:
"I just purchased the Coolcooker as a wedding gift for my granddaughter that just got married. With all the young couples of today living together or on their own, they already have just about any appliance you could buy for them. One of my young relatives just bought the new Vitamix S55 blender for $450, so I thought the price for the Coolcooker was reasonable. You can spend $100-$300 just for a coffee pot (single serve). As the previous reviewer stated, this will save them a lot of time and we should encourage the younger generations to eat more home-cooked meals for more healthy adults and children."
2. It is a bit bulky. The outside dimensions of the CoolCooker are 16 inches in length, 10 inches wide and 8 inches high. It is certainly not as sleek as a normal slow cooker. So if your kitchen is cramped, this may not be the best appliance for you. It does have a refrigeration unit in it so hello…of course it's not going to be as slim as a normal slow cooker.
3. It has a 3 quart capacity. I use a 3 quart slow cooker most of the time for my family of 4. It is the perfect size for me, my husband and two children. However, if you're planning on feeding a large group, 3 quarts is certainly not going to be big enough for you. Perhaps in the future there will be a 6 quart option. But for now I would say this is good for singles, couples or smaller families.
If you're interested in purchasing the CoolCooker it's now available on Amazon!
*Disclosure: When you purchase anything from Amazon on my blog, I receive a small percentage of the sales. Thanks so much for supporting this blog by shopping on Amazon!


Please visit my Amazon store to see all the slow cookers that I personally recommend!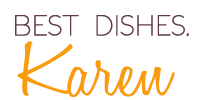 P.S. What recipes can you make in a normal slow cooker for a really long time? See this post for some recommendations!