The other night I was wanting to make chicken philly sandwiches for dinner. The idea was spawned by a dream I had the previous night. It seems like every time I have lots of stuff on my plate I have a recurring dream. Does this happen to you? The premise of the dream is me waiting tables at a restaurant and everybody needing/wanting something immediately and me not being able to get them what they want in a timely matter. I waited tables during college and the early years of my marriage and during these dreams I'm trying to serve people at one of the restaurants that I worked at. When I wake up in the morning I inevitably feel tired from "working" all night and dealing with the cranky customers. Obviously, this is a metaphor for my life of feeling overwhelmed at times. What are your recurring dreams? Do you miss your final exams at college? Can't find your locker? Do your teeth fall out? My husband is lucky because his recurring dream is him flying. Lucky dog. That seems like a fun dream to me!
Anyway, the reason I made this Chicken Philly Sandwich casserole was because I had a dream about the sandwich shop I used to work at that served Philly Steak and Philly Chicken sandwiches. So I went about my day getting ready to serve sandwiches for dinner. Then at the last minute I found out a friend was sick and needed dinner. Soooo, my chicken philly sandwiches turned into a portable chicken philly casserole. Awesome! It was really delicious. I used cheddar cheese because that's what I had on hand but the real sandwich has provolone cheese in it. So use whatever you prefer!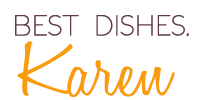 P.S. Make sure to join in all the foodie fun on Pinterest!
Visit Karen Petersen's profile on Pinterest.