Now that we know how to make
caramel sauce in the slow cooker
let's talk about how you can use it. Like in these caramel apple sundaes. Yum! This is super simple and kind of reminds me of a yummy apple crisp. You simply cook the apples and a few other ingredients in the slow cooker and then serve the apples over vanilla ice cream and then top with the caramel sauce. This is a crowd pleaser, for sure and a little different than the normal chocolate fudge sundaes (although those are good too).
Slow Cooker Caramel Apple Sundaes
Makes 8 servings
Ideal slow cooker size: 3-4 quart
8 granny smith apples, peeled, cored, and cut into chunks or slices (about 6 cups)
1 tsp cinnamon
1/2 cup water
1/2 cup sugar
Vanilla ice cream
1. In a slow cooker combine the apples, cinnamon, water and sugar and stir.
2. Cover and cook on LOW for about 4 hours. Apples should be cooked but not totally mushy and falling apart.
4. Serve apples over vanilla ice cream and drizzle with caramel sauce.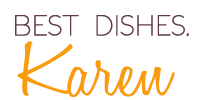 P.S. Like sweets? Try these others as well:
Chocolate Peanut Pretzel Bites
Caramel-Filled Chewy Ginger Cookies
Nutella Fruit Pizza with Cookie Dough Crust
The Best Cookie Bar in the World
Pina Colada Lava Cake
Easiest Hot Fudge Sauce of All Time