These 5 easy slow cooker meals are so perfect to bring to a friend that just had a baby. The meals will also work for a new neighbor that just moved in or for a friend that recently had a loss in their family. Whatever the reason, don't let the excuse "I can't cook" come into your mind! These crockpot meals are super simple and you don't need mad skills in the kitchen to make something delicious for your friend!
I had my son almost 6 years ago in the hot summer time. I was sleep deprived and hot and the last thing I wanted to do was cook up a meal for my family. I was so happy when my friend came over with a yummy salad that I still think about to this day. Since that time I've tried to think of yummy meals to bring to friends that are satisfying, nourishing, colorful and something besides a box of pizza!

1. Chicken Rio Salad with Tomatillo Ranch Dressing
I make the chicken in the slow cooker and shred/cut it up. Then I add in all the extras like a bag of tortilla chips or fritos, an avocado, the dressing, tomatoes, cheese, etc. You can make a huge salad and bring it over or I like to bring everything over in separate containers and then each person can choose how they want to make their own salad.
2.
Tortellini Lasagna Casserole
: This recipe is great for a family with kids. It's yummy for kids and for adults. It starts with some Italian sausage, which gives a lot of flavor to the whole dish. I like to use mild Italian sausage just in case someone doesn't like spicy stuff. This recipe could also be baked in a casserole dish in the oven for about 30 minutes at 375
°
F. I might add some mozzarella cheese on top and it will get all melty and yummy.
3.
Shredded BBQ Chicken Sandwiches
: These little sliders are so easy they actually only take 5 ingredients to make. For the buns, I like to buy the frozen Rhodes rolls and let them rise all day. Then right before I bring the meal over I like to bake the rolls and use them as buns for the sandwiches. Because they're fresh baked they taste like homemade and your friends will be so impressed 🙂 You can bring some slices of cheese and some lettuce if you want for these little sandwiches or simply just serve meat on a bun and call it good. I would probably make a tossed salad, fruit salad or pasta salad to go with these sliders.
4.
Tomato Basil Parmesan Soup:
When the weather is cool I really love to make soup for people because it's easy to double and make a batch for my family at the same time
and
because it's so nourishing and comforting. Just take a loaf of French bread or some rolls with the soup and you're good to go! This is one of my favorite soups of all time and everybody loves it–kids and adults alike!
5. Creamy, Cheesy Barbecue Chicken Spaghetti Bake: This one is kind of halfway a crockpot recipe and halfway an oven recipe. If you have shredded chicken ready to go in the freezer you can whip this casserole up in no time. It is super comforting and I've never seen my family eat spaghetti so fast as when they ate this dish! If you're not sure when the family will be eating simply bring this unbaked casserole with the instructions on how long and at what temperature to bake written on top of the foil in sharpie. I like to bring a green salad with this one. Sometimes I throw in a bottle of dressing or if I'm feeling up to it, I'll make homemade dressing.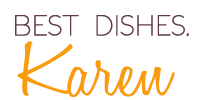 P.S. Make sure to join in all the foodie fun on Pinterest!