This time of year is filled with lots to do and lots to eat. It's one of those times where you essentially get a free pass on eating and can indulge on foods you may not normally eat. For that reason, I love it! All the holiday foods are so rich and delicious and special and not something you get every day. Here are 16 recipes I think you should consider adding to your party menu this year!
2. CrockPot Symphony Bar Fondue

3. One Dish Velveeta Rorel Dip

4. Slow Cooker Chocolate-PB-Marshmallow-Coconut Bark

5. Slow Cooker Chicken Taco Dip

6. Crunchy Fudge

7. Heath Bar Brownie Trifle

8. Chocolate Mint Chip Cookies

9. Caramel Ginger Molasses Cookies

10. Slow Cooker Buffalo Chicken Dip

11. Spinach Artichoke Dip

12. Slow Cooker Holiday Mashed Potatoes

13. Overnight Breakfast Casserole

14. Hot Chocolate Gift Jars

15. Slow Cooker Hot Bean Dip

16. White Bean and Garlic Hummus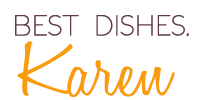 P.S. Make sure to join in all the foodie fun on Pinterest!