We all know that you can make soup and roast in the slow cooker but what about dessert? Have you ever tried to make a cobbler, cake, or crisp in your crockpot? If not, you are definitely missing out! These 15 desserts all have my seal of approval. Besides tasting delicious, they are super duper simple to make. So give it a try…make a decadent dessert this summer without turning on your oven or stove!
1. Mint Chocolate Fudge Sauce
With only 3 ingredients this hot fudge sauce couldn't be easier! The best is when you serve it with mint chocolate ice cream. The slow cooker will keep the fudge sauce warm which is perfect for an ice cream party!

2. Coconut Nutella Lava Cake
I cannot tell you how much I love 2 of the prominent ingredients in this recipe…coconut and nutella. Yum and yum. Put them together in a cake and you have a winning combination.

3. Peach Blueberry Crisp: Summer is here and that means that peaches and blueberries are in season. Enjoy the fresh tastes of summer with this easy crisp made in your crockpot. Don't forget the vanilla ice cream!

4. Pina Colada Lava Cake: Take yourself to a tropical paradise without leaving your house! This recipe is inspired by coconut and pineapple and don't worry it's super simple to make.

5. 3-Ingredient Peach Cobbler: A cake mix, peaches and butter are all you need for this surprisingly delicious recipe. This is another summer recipe that you can put together and then let your crockpot do all the work!

6. Chocolate-Peanut Butter-Marshmallow-Coconut Bark…um, how could this not be good? It's amazing. That's all.

7. Slow Cooker Peanut Pretzel Bites: These bars are loaded with peanut butter, peanuts and crunchy pretzels. You're going to be addicted with the first bite…don't blame me!

8. Clean Eating Chocolate Pudding
Even if you're trying to eat clean you still want a treat every now and then! This vegan black bean chocolate pudding is ultra creamy and you'll be surprised how good it tastes.

9. Slow Cooker Caramel Apple Sundaes
Make the caramel sauce and the cooked apples in your slow cooker for this delicious treat. It's so good you won't even miss that there's no chocolate.

10. Symphony Bar Fondue
The slow cooker is the perfect place to make fondue. It melts the chocolate without burning it and it keeps it warm for your fondue party.

11. Crockpot S'mores Fondue:
Get all the fun of camping without sleeping in a tent in the woods. Make this fondue and you will die at how awesome it tastes. Use the graham crackers for dipping in the chocolate-marshmallow sauce.

12. Hot Fudge Brownie Cake
I will never stop making this because it's absolutely my quintessential dessert. Load and loads of chocolatey goodness. This one HAS to be served vanilla ice cream and a large spoon!

13. Chocolate Covered Coconut Peanut Butter Bites
This babies are easy to pop in your mouth and you'll be amazed at the delicious combination of peanut butter, coconut, chocolate and rice krispies.

14. Strawberry-Rhubarb Cobbler
Another summer dessert to make with your fresh strawberries and rhubarb this summer! I love the tartness of the rhubarb mixed with the sweet strawberries and sugar.

15. Slow Cooker Pumpkin Dump Cake
This is another easy cake mix recipe. I like this one in the fall and I will eat this hot or cold…both are good!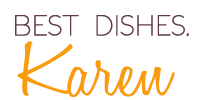 P.S. Make sure to join in all the foodie fun on Pinterest!
Visit Karen Petersen's profile on Pinterest.