I've been blogging about slow cooker stuff for over 5 years now. Sometimes I forget what I've told you already and sometimes I think that you know stuff that you don't. Like that you can cook rice in the slow cooker. I bet there are some of you out there that didn't know you could do that (am I right?!?).
I mostly cook brown rice because that's what my family eats but you can also cook white rice. Although I feel that the brown rice holds up better in the slow cooker than white rice. I haven't really tried any of the fancy other kids of rice but I'm sure those would work too. The cool thing about it is that it's super easy. And you only need to remember a couple things to have success.

So this is how you make rice in the slow cooker…
You take
1 cup of brown rice (or white rice)
1 1/2 cups or boiling water
1 tsp of salt (optional)
and you put it in your slow cooker that has been sprayed with non stick cooking spray. Then you turn it on high* and cover. It should be done in about 2-3 hours. Remember that each slow cooker cooks differently! White rice is going to cook faster and might even be done within 90 minutes. Brown rice may take up to 3 or 4 hours.
*Most recipes can successfully be cooked on high or low, but with this one I'd stick with high if I were you. The rice seems to get too mushy if cooked over several hours on low.
I also like using my slow cooker to cook pearl barley. Barley cooks similar to brown rice as far as time goes. In addition, you can cook quinoa in the slow cooker! It will take a lot less time to cook though…probably closer to 90 minutes on high.
If you like rice…you should try my Brown Rice Mushroom Risotto…it's creamy and delicious and best yet, a hands off recipe.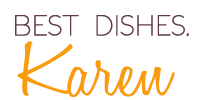 P.S. Join the 35,000 others that are following me on Pinterest!