When I was growing up my mom would make a casserole called Chicken Tetrazzini all the time. It had spaghetti noodles, chicken, celery, mushrooms and cheese. When I went away to college I typed up all of my mom's recipes that I liked and put them in a little folder. Chicken tetrazzini was one of them. After I got married, my husband often requested this recipe but it had so many steps and pots that I didn't like to make it very often. NOW THINGS HAVE CHANGED! I'm am so happy to report that I figured out a way to make this comforting casserole in ONE POT!
Have you seen these amazing "one pot" meals floating around the internet? I've see several and I love the idea! I know they are traditionally made on the stovetop but I wondered if I could make them in my trusty slow cooker. And in fact I could! Hooray! No need to preboil the noodles. No need to saute the celery. Just pile the ingredients in the slow cooker turn to high and walk away for 90 minutes. Come back, sprinkle the cheese on top and serve! Voila! This creamy, cheesy spaghetti dish will have you saying mmmmmm!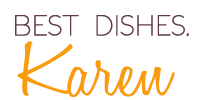 P.S. Make sure to join in all the one pot wonder fun on Pinterest!
Follow Karen Petersen's board One Pot Meals on Pinterest.