This crockpot cashew chicken is just as good as your favorite Chinese restaurant. It's super easy and flavorful and it's all made in the comfort of your own kitchen.
This cashew chicken recipe comes from year one of my blogging (2009!). It is one of my favorites (and your favorites too) so I decided it needed to get a second wind with better pictures. Also I really just wanted to make it for dinner last night! My husband had one bite and gave me the signal that it was a 10! The only complaint my family made was that there wasn't enough.
This recipe takes a few minutes of extra prep work but I think you'll find that it is totally worth it!
First, you'll cut the chicken thighs into about 6 pieces each. I love using kitchen shears for this step. I trim off excess fat and then just cut the chicken into bite-size pieces.
Next you'll use some thick paper towels to blot the chicken. Try to get as much moisture off of the chicken as you can. It's important that the chicken is dry so that it can get a good browning on it.
Give the chicken a shake! Shake the chicken in a zipper plastic bag with some flour and pepper to coat the chicken evenly.
Heat a bit of oil in a pan and then when the oil is hot, brown the chicken 2 minutes on each side. Spread the chicken out so that each piece gets it's own little spot of heat.
Finally you'll add the chicken to the slow cooker and pour an easy, homemade sauce over the top. Cook on low for just 4 hours and you'll have the most amazing, tender and flavorful chicken ever!
Oh, and one more thing! Don't forget the cashews. It is "cashew chicken" after all. You'll add in the cashews after the chicken is cooked and let them warm up for about 10 minutes. I like to top my chicken with slices of green onions but you could throw some cilantro on the top instead.
Recipe for Slow Cooker Cashew Chicken
print recipe
Makes 4 servings
Cooking Time: 4-6 hours


2 lbs boneless, skinless chicken thighs, cut each thigh into about 6 pieces (don't use chicken breasts)
1/4 cup all purpose flour
1/2 tsp black pepper
1 Tbsp canola oil
1/4 cup soy sauce
2 Tbsp rice wine vinegar
2 Tbsp ketchup
1 Tbsp brown sugar
1 garlic clove, minced
1/2 tsp grated fresh ginger
1/4 tsp red pepper flakes
1/2 cup cashews
Green onions, for garnish
1. Blot the pieces of chicken with a thick paper towel. You'll want to get as much moisture off of the chicken as possible.
2. Combine flour and pepper in resealable food storage bag.
Add chicken. Shake to thoroughly coat with flour mixture.
2. Heat oil in skillet over medium-high heat. When oil is hot, brown the chicken about 2 minutes on each side. Make sure you have a large enough pan that each piece of chicken can sit on the bottom of the skillet. After the chicken is browned transfer it to the bottom of the
slow cooker.
3. Combine soy sauce, vinegar, ketchup, sugar, garlic, ginger, and pepper flakes in small bowl; pour over chicken.
4. Cook on LOW for 3 to 4 hours. Gently stir in the cashews and let cook on low for about 10 more minutes. Serve chicken over hot cooked rice of noodles and garnish with sliced green onions.
Serve this cashew chicken with one of these great side dishes from other bloggers:
Roasted Broccoli
Baked Asparagus with Parmesan
Lemon Garlic Brussels Sprouts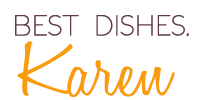 P.S. Love chicken? Try these other
great crockpot chicken recipes: