This hot fudge brownie cake was made for the slow cooker. It's gooey and moist and ultra chocolatey. Serve with vanilla ice cream for an ultimate dessert with minimal effort!
(This is an updated photo/recipe from February 2009...it remains one of my very favorite desserts)
The oven version of this recipe was one of my very favorite desserts growing up. It was often made when we had company for dinner or for a Sunday dinner. It turns out so perfect in the slow cooker...which is good because this time of year the air conditioning is turned on and we don't need to make it work harder than it already is. The slow cooker will keep your kitchen cool and let you have your cake too! Win-win. The best part of this cake is that it is like a brownie and fudge sauce all in one dish. The cake floats to the top during baking and bottom layer becomes the pudding-fudge sauce. You will definitely NEED the vanilla ice cream when serving this. If you happen to have leftovers, it's super good for breakfast straight out of the tupperware in the fridge :)
Recipe for Slow Cooker Hot Fudge Brownie Cake
Makes 8 servings
Ideal slow cooker size: 3 quart
Cooking time: 2-3 hours
1 cup packed brown sugar
1 cup flour
3 Tbsp cocoa
2 tsp baking powder
1/2 tsp salt
1/2 cup milk
2 Tbsp melted butter
1/2 tsp vanilla
3/4 cup packed brown sugar
1/4 cup cocoa
1 3/4 cups boiling water
1. In a large bowl mix together 1 cup brown sugar, flour, 3 Tbsp cocoa, baking powder, and salt.
2. Stir in milk, butter, and vanilla. Spread over the bottom of a greased slow cooker.
3. In a separate bowl, mix together 3/4 cup brown sugar and 1/4 cup cocoa. Sprinkle mixture over the batter in the bottom of the slow cooker.
4. Pour in boiling water.
Don't stir the water into the batter. During baking, the top layer bakes into a cake and the bottom layer turns into a fudgy pudding.
Cover and cook on HIGH 2-3 hours or until center is almost set.
5. Scoop cake out into a serving bowl. Drizzle with the fudge sauce that is underneath the cake part. Serve warm with vanilla ice cream.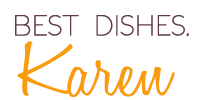 P.S. Check out these other crockpot desserts (get the recipe by clicking on the picture):